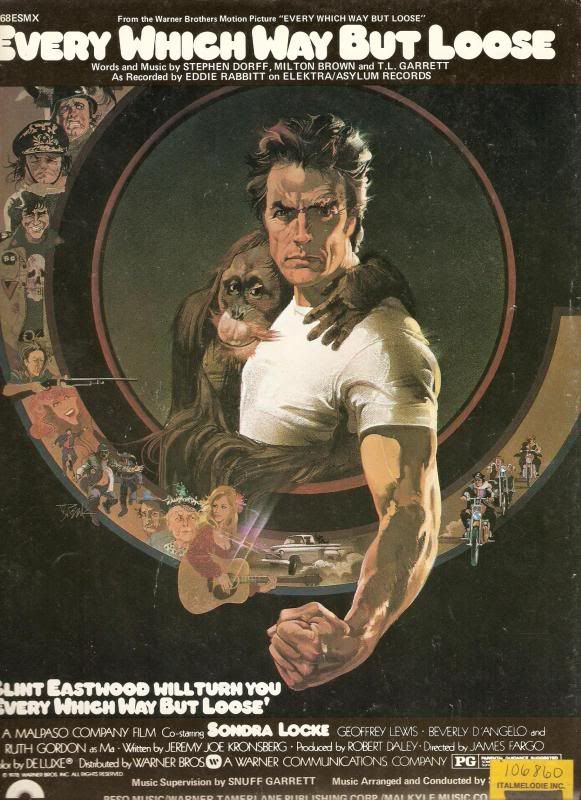 And for starters we come right to the central question: is the title song from the film
Every Which Way but Loose
about Clint Eastwood and his chimpanzee? Maybe just a little? Somehow the "thinking/drinking" country crossover sincerity of the lyrics and Eddie Rabbitt's delivery says no. But the question still lingers? Turning ME every which way but loose. (Whatever the hell that means?)
My brother and burst into laughter--the kind of laughter that propels one's interest in watching Clint Eastwood/chimpanzee movies--the moment we heard Rabbitt's sacchrinely sweetly timbre float across the first line of the song. From there, a meandering verse bleeds into a truly perplexing and overly complicated chorus.
Every which way but loose, you turn me.
Perhaps its a tad obtuse?

But therein lie EVERY WHICH WAY BUT LOOSE's charms, and Rabbitt's signature. Rabbitt wrote one of my favourite Elvis songs, the glorious "
Kentucky Rain
," which features a beautifully perplexing verse filled with obsessive compulsive attention detail:
Showed your photograph
To some old gray bearded man
Sitting on a bench
Outside a general store
They said yes, she's been here
But their memory wasn't clear
Was it yesterday,
No, wait... the day before.
Rabbitt didn't write "Every Which Way But Loose," but you can see how a man who would write "was it yesterday, no wait... the day before" into a song wouldn't mind a chorus filled with rhymes turning on
-uses
.
So naturally when I saw this item amongst many other 1970s and 1980s hits in a close-out bin at Italiamelodie in Montreal, last year, I bought it, with cash money, from a cashier with an earing who paused looking over the gorgeously painted poster of Clint and chimp on the cover.
I've
never
been the kind of man who doesn't believe in strings. Long term obligations
are
necessary things. Hence sheet music, lots of it, and it's time to share this with the world (follow the links below).
IMAGE LINKS


COVER
PAGE 1
PAGE 2
PAGE 3
PAGE 4
Rabbitt performs the song on a variety programme:
--